Beautiful Kettle
One really does appreciate things that work elegantly.
My girlfriend insisted we bought the following kettle, on account of its colour.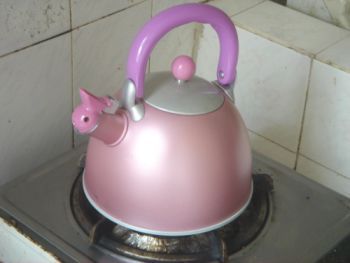 It was quite an expensive kettle but it did look so good, I thought well, OK. But with its expense comes more than just its beauty.
After the water has boiled, to open the spout, to pour the water, there is an extra plastic bit (looking like an ear) which stays cold. Meaning you don't burn your hands or need to use a dish cloth.
The purple handle is designed in such a way that it too doesn't get hot.
You can lift the lid of the kettle off without having to move the handle to any special angle (as was the case with the previous kettle)
The water pours beautifully. No spillage whatsoever.
Without water, it's light (ideal for the ladies for whom it was presumably designed).
It's the right size. There's no point making a kettle holding only one cup of water but most families don't need industrial sized kettles which can cook 34 cups of water either. This kettle is physically small but can boil 3-4 cups of water.
The spout is big enough that one can poor water in it, without having to lift the lid off, if that's one's preferred method of filling the kettle (it is mine)
If only all things in life were made as well as this kettle.