Deceptive practices in mobile data tariffs
As those who know me know, I was sent a bill for € 2600 from T-Mobile Austria because I'd used their data card in the T-Mobile UK network. I'd downloaded 260MB. T-Mobile Austria claimed that T-Mobile UK was a "foreign network" (choosing to be one brand only when it suits them) and charged me € 10/MB despite charging only € 39/month for 800MB when I'm in Austria. Quite a price difference. It clearly didn't cost them that much, they only adopt this strategy to rip people off. I even went to the consumer protection agency in Austria who agreed it was outrageous. They wrote T-Mobile AT a letter asking them to reduce the bill. T-Mobile promptly wrote back and said "no".
I considered switching operators in Austria, but I looked around, and it turns out all the other operators have a similar price structure. Apart from the operator 3. They have a no-roaming-fee policy, as long as one stays within their network.
So, now I have signed up for 3 UK (as I was in the UK at the time I needed it, and I figured with no roaming costs, it doesn't matter where you sign up). If I'd been with 3 before rather than T-Mobile before, my monthly bill would have been £10 rather than € 2600.
But I was, nevertheless, still extremely suspicious of network operators, after my experience with T-Mobile. And with good reason, it turns out.
3 supply a tool (with a horrible UI! – but it works) to allow you to connect to the Internet. I have only used their tool to connect, not any other. And helpfully it tells you how many MB you have used. You get 1000MB included in the monthly fee and every extra MB costs 10p.
But the other day I booted my computer and found the number of MB used had gone down overnight! The display on the previous day had been around 400MB and now it was showing around 300MB. This couldn't be right.
One of the things I learned from my T-Mobile experience is that operators have websites where you can check your current bill. Supposing that 3 also had such a facility, I went around looking for it and sure enough it does have one, called my3.
And I suspected, the tool was showing an incorrect amount.
Here is a screenshot of the tool which says that 439+91MB have been used, i.e. 530MB have been used, so 470MB should be remaining from my monthly 1000MB.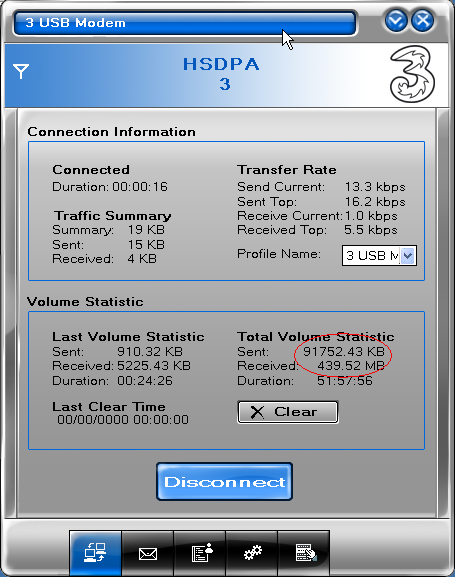 Here is a screenshot of the website however clearly shows I only 228MB are actually remaining.

If I had believed the 3-branded tool which installs itself onto the computer the first time you plug the 3-branded modem into a USB slot on your computer, I would have surfed e.g. 242MB more than my 1000MB allowance – or maybe more if the used amount goes down again mysteriously. That would have cost £24 extra, which is not the end of the world, but it's not the £10/month deal I signed up for.
I wrote to customer services explaining the situation and suggesting they file a bug report against their software, as it displays incorrect data, and the data is directly relevant to billing. Amazingly a customer services representative called me and explained to me that only the value on the my3 website was the authoritative value. I explained that I understood that, but he should still get the program fixed, or at least display a warning. He said he'd "look into it" but it didn't sound to me like he had any power to do anything about that. But maybe I'm wrong.
But basically, be very careful of mobile companies concerning data tariffs.
T-Mobile AT charging € 39/month for 800MB is € 0.04 per MB. They charge € 0.20 for any MB used over the 800MB limit. But roaming to the network apparently with the same brand in the UK, they charged me € 10 per MB, which is 50x € 0.20. But they've got the UMTS equipment in the UK anyway, for their UK customers who are on similar price-plans. The only extra complexity is provisioning and billing. I don't believe that costs 50x more than building the UMTS network in the first place.

3 UK produce a 3-branded tool installed from a 3-branded modem which came with my 3 contract, which displays blatantly incorrect data. Upon calling customer services one learns one cannot trust the tool, one can only trust the my3 website. But that is far from obvious. Anyone trusting the number on the tool will end up with a bill for a higher number of MB than they had believed they had used.